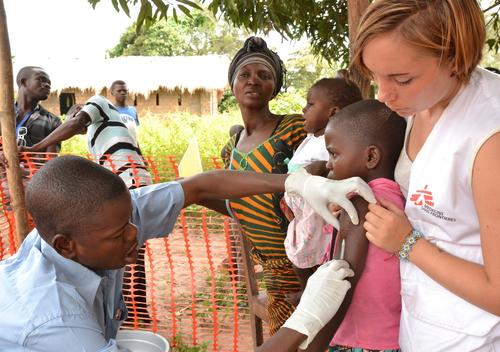 As measles sweeps across Democratic Republic of Congo (DRC), more than one million children have been vaccinated against the disease in a nine-month campaign by Médecins Sans Frontières (MSF), supporting the Ministry of Health. Since November 2016, MSF teams have also treated more than 41,000 children for the disease in Maniema, Lomami, Tanganyika, Ituri, South Kivu, and Equateur provinces.
Measles is extremely contagious and is mostly spread through sneezing and coughing. It mainly affects children, especially the under-fives. For those who suffer complications and who fail to receive treatment, it can prove deadly.
For the vaccine to be effective, 95 per cent of children aged from six months to 15 years need to be vaccinated. In a country as large as DRC, where roads are often poor or non-existent, and travelling can be hampered by insecurity, considerable logistical constraints exist to reach children in certain areas. MSF teams have travelled by motorbike and on foot down narrow forest trails to reach the most remote areas.
"My team and I wanted to reach a particular area of Equateur province, around 20 km from Bolomba," says Faustin Igulu, health promotion manager for MSF's emergency response team. "As there are no roads, we used motorbikes. We had to lift the motorbikes, the cool boxes containing the vaccines and all the rest of the equipment we needed onto wooden planks to cross the rivers. When the…