The type 2 diabetes drug canagliflozin (marketed as Invokana) is associated with a lower risk of heart attacks and stroke but increased risk of amputation, new research shows.
The new data comes from two separate trials and was presented at the American Diabetes Association (ADA) 2017 Scientific Sessions.
The Canagliflozin Cardiovascular Assessment Study (CANVAS) looked at effects of the drug on heart disease and stroke risks. The CANVAS renal-end-points trial (CANVAS-R) looked at the effects on kidney disease risks.
The Australian study involved 10,000 people with type 2 diabetes who were randomly assigned to receive canagliflozin or placebo for an average of 188 weeks.
The findings suggested canagliflozin reduced the risk of cardiovascular disease by 14 per cent and also lowered the risk of hospitalisation relating to heart failure by 33 per cent.
Canagliflozin becomes the second SGLT2 inhibitor drug to show a benefit in heart disease risk. Last year, empagliflozin (marketed as Jardiance) became the first diabetes drug to demonstrate a benefit on heart health.
Lead researcher Professor Bruce Neal, from the George Institute for Global Health, said: "Coronary heart disease is the biggest killer by far for people with type 2 diabetes. Our findings suggest that not only does canagliflozin significantly reduce the risk of heart disease, it also has many other benefits too. We found it also reduced blood pressure and led to weight loss."
The results showed that users of canagliflozin had decreased risk related to kidney disease, however, the benefit was not enough to be judged statistically significant. Less positive was a doubling in risk of amputations associated with canagliflozin use.
Prof. Neal added: "We don't know why there was an increased risk of amputation, and further work is needed in this area."
The findings of the research have been published in the New England Journal of Medicine.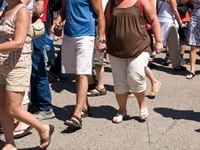 Type 2 diabetes mellitus is a metabolic disorder that results in hyperglycemia (high blood glucose levels) due to the body:
Being ineffective at using the insulin it has produced; also known as insulin resistance and/or
Being unable to produce enough insulin
Type 2 diabetes is characterised by the body being unable to metabolise glucose (a simple sugar). This leads to high levels of blood glucose which over time may damage the organs of the body.
From this, it can be understood that for someone with diabetes something that is food for ordinary people can become a sort of metabolic poison.
This is why people with diabetes are advised to avoid sources of dietary sugar.
The good news is for very many people with type 2 diabetes this is all they have to do to stay well. If you can keep your blood sugar lower by avoiding dietary sugar, likely you will never need long-term medication.
Type 2 diabetes was formerly known as non-insulin-dependent or adult-onset diabetes due to its occurrence mainly in people over 40. However, type 2 diabetes is now becoming more common in young adults, teens and children and accounts for roughly 90% of all diabetes cases worldwide.
How serious is type 2 diabetes?
Type 2 diabetes is a serious medical condition that often requires the use of anti-diabetic medication, or insulin to keep blood sugar levels under control. However, the development of type 2 diabetes and its side effects (complications) can be prevented if detected and treated at an early stage.
In recent years, it has become apparent that many people with type 2 diabetes are able to reverse diabetes through methods including low-carb diets, very-low-calorie diets and exercise.
For guidance on healthy eating to improve blood glucose levels and weight and to fight back against insulin resistance, join the Low Carb Program.
Following pre-diabetes or metabolic disorder, type 2 diabetes can potentially be avoided through diet and exercise.
What causes type 2 diabetes?
Type 2 diabetes occurs when the hormone insulin is not used effectively by the cells in your body. Insulin is needed for cells to take in glucose (sugar) from the bloodstream and convert it into energy.
Ineffective use of insulin results in the body becoming resistant to insulin – also known as insulin resistance, which in turn causes blood sugar levels to rise (hyperglycemia).
In advanced stages, type 2 diabetes may cause damage to insulin producing cells in the pancreas, leading to insufficient insulin production for your body's needs.
Type 2 diabetes risk factors
A number of factors can increase the risk of developing type 2 diabetes.
These include:
The likelihood of developing type 2 diabetes is also influenced by genetics and environmental factors….