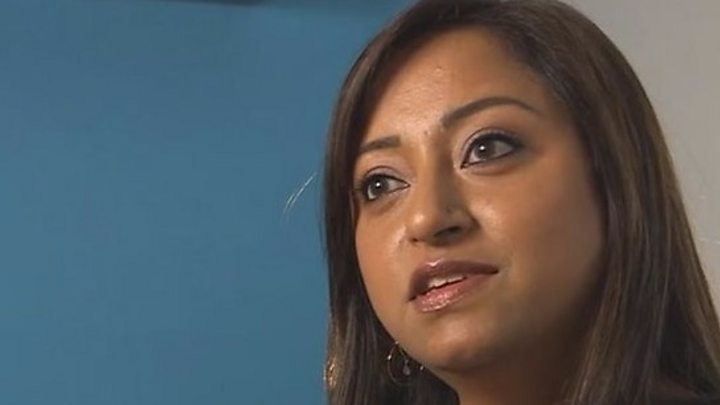 A number of UK women from South Asian backgrounds who have cancer hide it because of a perceived stigma about the disease, the BBC has learned.
One woman chose to "suffer on [her] own" through chemotherapy for fear of her family's reaction, and questioned whether God was punishing her.
Experts said others were seeking help too late, causing preventable deaths.
In one case a woman sought treatment only when her breast was rotten. She later died as the cancer had spread.
'Very dark days'
Pravina Patel, who told the BBC's Victoria Derbyshire programme about her own experience, stumbled upon a lump in her breast when she was 36.
She grew up in a strict Indian community where even talking about the disease was considered shameful. When she was diagnosed, she decided to hide it.
"I just thought if people hear the fact that I've got cancer, they're going to think it's a death sentence," she said.
She remembered worrying that people would say she had lived a "bad life" and God was punishing her for it.
Ms Patel continued to keep the disease a secret when seeking treatment, saying she felt "extremely lonely" during chemotherapy.
"I was going through chemo sessions on my own… I had some very dark days," she explained.
Pooja Saini, the lead researcher at CLAHRC North-West Coast, a research arm of the NHS that looks into health inequalities, said her own review into the issue "really surprised" her.
"Some women went to the extent of not even having treatment because, if they went, people would know as they'd lose their hair," she explained.
She added others "feared it might affect their children because no-one would want to marry them".
It is difficult to say how widespread the problem was, because little information has been collected on ethnicity and mortality.
But…